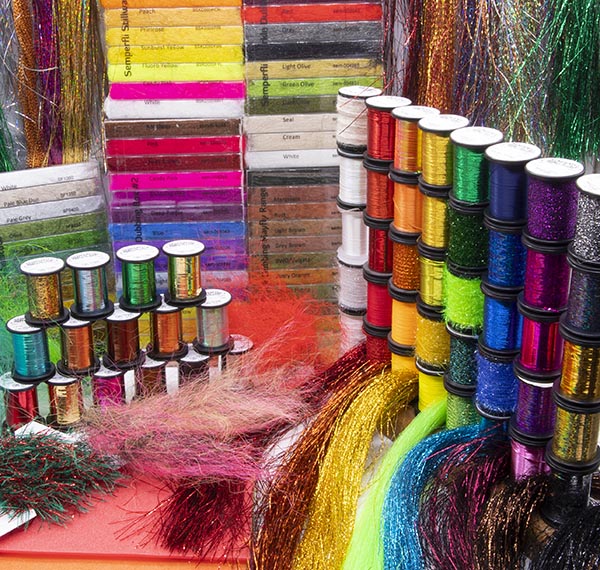 Semperfli - Materials & Tools for Discerning Fly Tyers
Semperfli has been developed by angling professionals to provide an unparalleled selection of fly tying materials. Semperfli brings the discerning fly tyer the materials to realise their dreams and tie their ultimate fly!
April 21st 2022 Semperfli wins Queens Award For Enterprise: International Trade 2022

We are absolutely over the moon to win the Queen's Award, its like getting a knighthood for our business. Find our more about the Queen's Award here
Wholesale B2B Manufacturer Of Quality & Innovative Fly Tying Materials
Semperfli only sells to established retailers and distributors and does not sell direct to fly tyers. The prices shown on this site are for information by way of suggested retail prices. We provide lots of content and through our Pro Team hope to Inspire and help you with your fly tying and in using our world-leading products.
For any fly tyers who wish to purchase Semperfli materials, please do get in touch and we can direct you to your nearest stockist. Alternatively, when browsing this site, you are welcome to use the 'I want to buy' link and we will be in touch with details of your nearest store.
Semperfli is sold via an international dealer and distribution programme and we are delighted to be working with our partners. We work well together because we share a vision for offering clients the best quality tying materials with the best customer services. We have partners in many countries including UK, Ireland, Norway, Finland, Denmark, South Africa, The Netherlands, Germany, France, Poland, Japan, Slovakia, Belgium, USA, Canada, Australia and more.
We also welcome enquiries from new dealers and distributors who have a passion and dedication to fly tying and who would like to take on the Semperfli range and share in the growth of these materials.
Famous for Nano Silk the world's strongest fly tying thread available in 24/0 (20 denier), 18/0 (30 denier), 12/0 (50 denier), 6/0 (100 denier) and 3/0 (200 denier), there are many more top materials in the Semperfli range of synthetics. Actually there are over 1300 products in the range altogether! These include the highly popular Classic Waxed Thread (CWT) rapidly becoming the worlds favorite tying thread, Straggle String, the world's thinnest chenille with just 2 strands and its incredible UV flecks looking like bug legs for nymphs and klinkhammer bodies, to our range of non tarnishing wires. There is an amazing range for the fly tyer to chose from. Ask your dealer for Semperfli products today.
Go To B2B Online Ordering