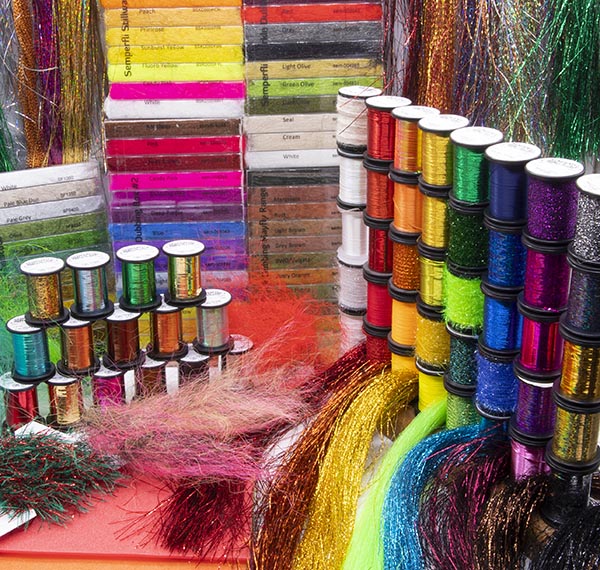 Semperfli - Materials & Tools for Discerning Fly Tyers
Semperfli has been developed by angling professionals to provide an unparalleled selection of fly tying materials. Semperfli brings the discerning fly tyer the materials to realise their dreams and tie their ultimate fly!
To learn more about life at Semperfli and learn why we do what we do please watch our corporate You Tube video
Semperfli wins Queens Award For Enterprise: International Trade

We are absolutely over the moon to be a Queen's Award winner! Its like getting a knighthood for our business. Find our more about the Queen's Award here
B2B Manufacturer Of Quality & Innovative Fly Tying Materials - Worldwide Dealer/Distribution Programme
Semperfli materials are available worldwide via authorised dealers and distributors. We work well together because we share a vision for offering clients the highest quality tying materials with unrivaled customer care.
We welcome enquiries from new dealers and distributors who have a passion and dedication to fly tying who would like to take on the Semperfli range and share in the growth of these materials.
We also supply fly factories and other organisations so please enquire for more information.
Quality and Value
Our materials are of the highest quality. We use the most modern and high-tech equipment for spooling, professional dyeing and packaging to ensure tyers are proud to include Semperfli materials in their flies. We give more in the packet and on the spool too representing fantastic value for tyers! We are cheaper by the metre!
You can rely on Semperfli!
Looking To Buy Our Materials?
If you as a fly tyer are looking to purchase our materials, please support our dealers around the world, those who carry the range in store and online. If you need assistance in finding a dealer please do get in touch or use the 'I want to buy' link against products on this site.
Pro Team
We are very proud of our global Pro Team and Ambassadors who showcase our materials at shows, on social media, on TV in magazines and more. They really are the very best tyers! They will be more than happy to help you with your fly tying too!
We have a dedicated programme for new members. To learn more about what we look for in Pro Team members please click here
Social Media
Social media is very important to us and we invite you to follow our pages - Facebook & Twitter @semperfli - Instagram @semperfli_flytying - Tiktok @semperfli_flytying - You Tube @SemperfliNet
Go To B2B Online Ordering